Pastor Stéphane Chauvette
Pastor Stéphane Chauvette serves as Senior Pastor of New Beginnings Ministry / Church in LaSalle, Quebec. Before assuming leadership duties, he had faithfully fulfilled the responsibilities of Associate Pastor of NBM Church for twenty-five years. Pastor Stéphane is also worship leader of the ministry, directing the congregation in anointed weekly worship sessions – always making sure the genuine presence of the Lord is manifested in the praises of God's people!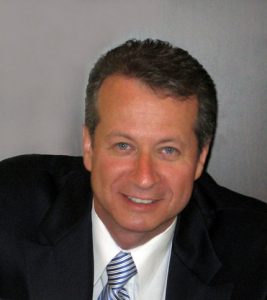 Born and raised in Montreal, Pastor Stéphane has always displayed a true love for the Lord, and from a young age, knew that he wanted to spend his entire life serving Jesus. Although he had already opened his heart to the Lord at the age of eleven, on April 14th, 1976, he once and for all dedicated his life in his early twenties (1989) after Pastor Mimi LeGassick witnessed to him about the goodness of the Lord. Over the next few years, he would grow in biblical knowledge so quickly that he became Associate Pastor in 1994 – remaining a faithful helper to Pastors Russell and Mireille until their retirement.
Undeniably, Pastor Stéphane Chauvette shepherds his congregation in a very distinctive way. An anointed preacher and teacher, his unique style of delivering God's Word ignites the heart of the believers and challenges them to produce life-changing results – motivating the sheep under his care with the love of the Lord. His thought-provoking and challenging radio programs have been equipping the Saints and transforming their lives for more than three decades. Aired on Christian Radio WCHP 760 AM in both French and English, Pastor Chauvette has edified countless believers and has encouraged them to be set apart for Christ.
Author, artist, designer, historian, musician and minister – Pastor Stephane's life is dedicated to the unchanging Word of God, preaching the whole counsel of the Lord until Jesus returns. His ultimate goal is not only to bring people to the saving knowledge of Jesus Christ, but also to equip a "New Generation" to be bold and steadfast for the King of kings. With an unusual knowledge, understanding and exceptional memory of the Scriptures, Pastor Stéphane Chauvette leads his congregation by preaching a living and exciting word. All his messages are intense, interspersed with current events, historical facts and a little touch of humor.
Currently, Rev. Stéphane Chauvette is holding a year-long Bible College Course, to which more than eighty (80) students have enrolled and where the fundamentals of Christianity are methodically studied through twelve major semesters. Pastor Chauvette is also working on numerous exciting projects, including two sequels to his popular book – The Devil's Last Chance, written in 1996.
On a spectacular autumn morning – miraculously warm and sunny for the season – Pastor Stéphane Chauvette and Adrianna Lesiuk joined their lives together, on September 27th, 2014, in the presence of family, friends and a church-packed congregation. Since then, with the help and support of the church leaders, directors and elders, they now lead New Beginnings Ministry into new pastures, abounding in spiritual revelations and breakthroughs!

Pastor Russell and Mimi LeGassick
Pastor Russell and Mimi LeGassick have served as the founding Pastors of New Beginnings Church / Ministry for 25 years, before retiring on June 16th, 2013. Married for 52 years, they are the proud parents of three sons: Brian, Steve and Mark.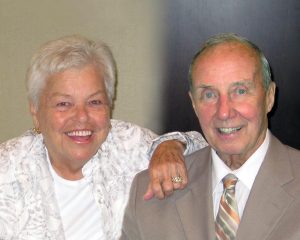 Before receiving the Lord Jesus as their personal Saviour, Russell & Mimi LeGassick lived a quiet life with their family in the West-Island of Montreal. Pastor Russell was enjoying a successful career in the advertising world, while Mimi was a stay-at-home mom, when the Lord called both husband and wife into the ministry. Being faithful to the calling and vision, they both sought God's will for New Beginnings Church, and have led their congregation through years of growth and blessings. With a heart for missions, Pastor Russ & Mimi have also aided in outreaches and have ministered to prisoners with love, truth, and Christ-centered leadership. Pastor Russell LeGassick has served as Vice-President on the executive board of directors of MCWE Canada (Morris Cerullo World Evangelism) for over 20 years.
On June 16th, 2013, Pastor Russell and Mimi LeGassick officially announced their retirement and transferred the government of NBM Church to Pastor Stéphane Chauvette – passing on the mantle of Senior Pastor of the Ministry to the leader of a "New Generation". It was altogether a sunset for the old administration and a sunrise for the new – knowing that in the steady hand of Pastor Chauvette, New Beginnings Ministry would continue to be a Church focused on serving the Lord and equipping the Saints in their walk with Christ.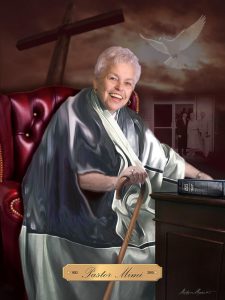 Sadly, on February 6th, 2015 – just a few days short of celebrating her 82nd birthday – Pastor Mimi was promoted to Glory after a long and fulfilled life. Her passing away has not left one heart untouched. And so, to celebrate her life, her immense contribution and the crucial part she has played in the creation and welfare of New Beginnings Ministry, it was decreed that the sanctuary of the Church shall perpetually be graced with the picture/painting of Pastor Mimi. For all she has done in Christ, this congregation will never forget.
To this day, now in his mid eighties, Pastor Russell LeGassick has not stopped nor slowed down. He travels the world over and he is still going strong praising the Lord, ministering to the elderly, and winning souls for Jesus!